Temperature Sensors for Linux

DigiTemp software is licensed under the OSI Certified open source GNU General Public License, and is free for use and redistribution.

The current development focus for DigiTemp is the Linux version, and adding support for more non-temperature devices. If you have a device that you would like to see supported, please send me a sample of the hardware (to keep, not as a loaner) and any documentation you have available.
| | |
| --- | --- |
| Development & Releases | DigiTemp development is now hosted at GitHub, report problems using the Issue tracker or a pull-request. |
| Releases | DigiTemp releases are now hosted at GitHub, based on the signed tags in the git repository. |
| DigiTemp deb packages | DigiTemp Debian Packages, in Debian unstable -- Thanks to Jesus Roncero adn Ryan Finnie |
| /software/linux/ | Previous Linux versions (UNSUPPORTED) |
| /software/windows/ | Previous Windows versions (UNSUPPORTED) |
Here are a couple of screenshots of DigiTemp in action on my network. I have a hub and 8 sensors scattered around the house. For more details on what DigiTemp can do, see the documentation page.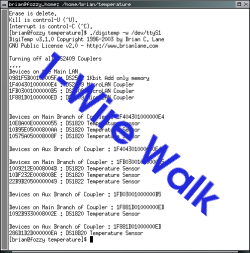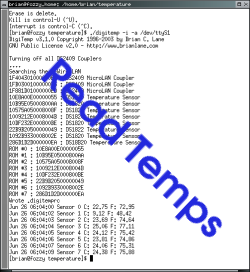 ---